If you are a returning vendor, please scroll down to the form below: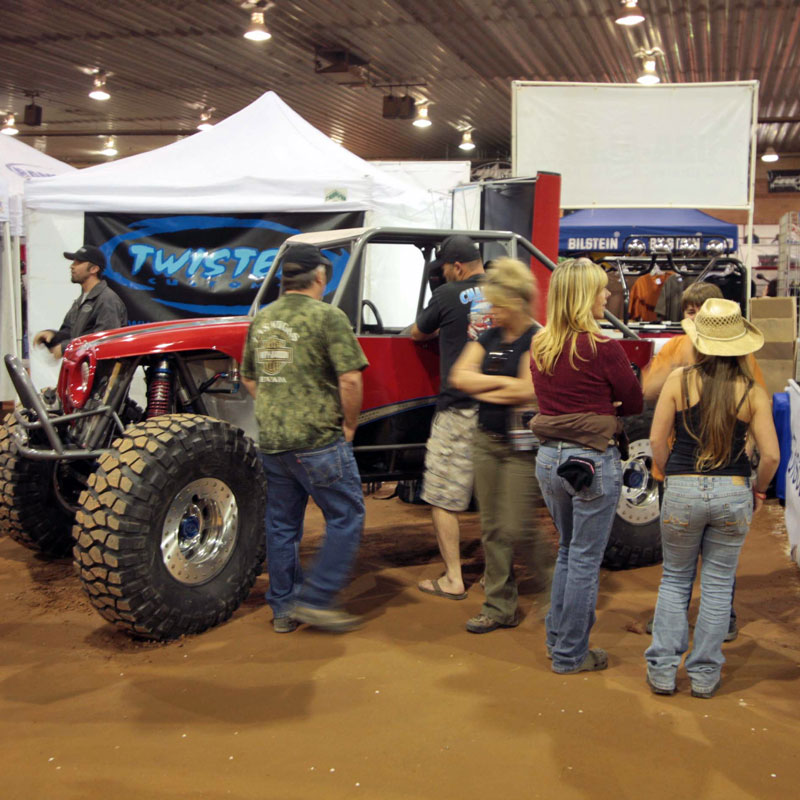 Inside Arena:
$400 Nonrefundable deposits pays for 1st space then $400 for each additional space.
Outside:
$400 Nonrefundable deposit pays for 1st space then $300 for each additional space.
Semis:
$1,000 Nonrefundable deposit, 30x80ft space
* Deposits must be received before the space will be reserved. Additional spaces can be paid in cash or product.
Payment for Space:
Payment for space after first 10x10 footprint will be accepted in the form of check or product. *** Certificates for discounts off a product, or for less than $300.00, will not be accepted for payment. Certificate must be good for one (1) year after Jeep Safari. Hats, t-shirts and stickers are not considered "product" unless you are an apparel company.
Product delivery:
All product given for payment must be delivered to Vendor Coordinator at time of check in. Certificate must be marked with business card from the company, along with content and value. (Who gave it, what it is, what it fits & what it is worth).
Vendor Space Requirements:
All spaces are 10'X10' each. A vehicle won't fit in one. Measure your display and reserve the right space for it. If you need access to a rear ramp on your trailer, that will require more space. Include in your space requirements.
Early arrivals:
Self-parking is not permitted, if you plan on arriving prior to Wednesday March 27, 2024, contact Greg at 435-210-0068. Semi's only!!
Banner Space:
Vendors are welcome to hang banners outside the arena at no charge. Space is limited please be fair, this is on a first come first served basis. Vendors are responsible for putting up and taking down banners. Any banners left after the show will be thrown away!
Vendor Responsibility & supplies:
Vendors are responsible to secure their own displays including awnings. Red Rock 4-Wheelers Inc. is not responsible for damaged or stolen items. RR4W or the Arena will not provide tables, chairs, power cords or supplies, if you will need it bring it. Trash cans and dumpsters are provided. If you need power outside bring a generator. no overnight Camping will be permitted!!
Outside Vendors:
Are permitted to move display vehicles before & after expo hours only. Vendor's vehicles that are not part of the display must be parked in vendor parking areas.
Requesting a Specific Space:
You may request a specific location, however because of seniority, high demand and lack of space, not all can be accommodated.
Paper Application:
if you need to fill out a paper application,
click here to download a pdf
---